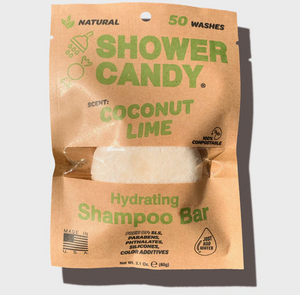 We love our partnership with Shower Candy! 
Hydrating solid shampoo bar for everyday use and all hair types. Using this shampoo bar will leave your hair feeling soft, moisturized, shiny and tangle-free without compromising on volume.
Why it's extraordinary: 
No harsh chemicals like other shampoos. This natural shampoo bar is hand made in the US with the highest quality natural ingredients.
FREE of: SLS, parabens, phthalates, silicones, artificial dyes.
Safe for color treated hair
Compact by design, this conditioner bar is a zero waste product. Packed in a compostable pouch and is plastic free. 
Enjoy salon quality haircare while reducing your environmental impact. 
Long lasting: 50+ washes per bar. 1 concentrated solid shampoo bar is equivalent to two 12 fl oz. bottles of your average bottled liquid shampoo.
Added benefits of switching to a solid shampoo bar:

Great for traveling, especially weekend trips as it's TSA carry-on o.k., spill and leak proof. 

Vegan and cruelty free, never tested on animals.
Ingredients:
Sodium coco sulfate, Coconut oil, Fragrance, Cocoa butter, Argan Oil.