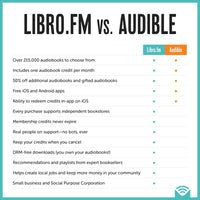 Listen to your next favorite book
We sell audiobooks with @librofm! Audiobook gift memberships...
💓can be sent to anyone in the world
💓allow the recipient to select their own audiobooks whenever they like
💓are a perfect gift for any age
💓can be emailed or printed as a certificate
💓never expire
💓makes great graduation and last minute gifts
LISTEN TODAY
Meet the Owners!
Bittina & Kevin Sheen are high school sweethearts who met through the arts and did ALL the things in 2022. They got married, started the Poulsbo Film Festival, and bought this bookshop from one of Bittina's friends, Elise!
Get to know us!