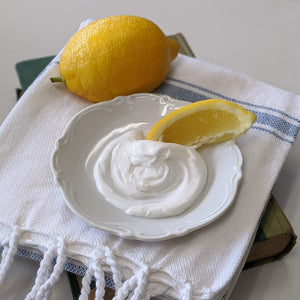 Our Fempire lotion is bright, zingy, fresh, and invigorating, just like strong women we love and the empires they build. The sharp lemon scent of this lotion will put a pep in your step and have you ready to face anything life throws your way. Embrace the bold with this woman-powered lotion and take it to the next level when you pair it with our matching Fempire bath bomb!

Lotion comes in a 2 or 4oz glass vessel.
Uses: Apply desired amount to skin, avoiding contact with eyes, to moisturize and relieve skin
Ingredients: caprillic triglicerides, emulsifying wax, glyceryl monostearate, shea butter, stearic acid, cetyl alcohol, glyceryl distearate (plant-based), carbomer, optiphen (paraben/formaldehyde-free preservative), glycerol (glycerin), various essential oils, fragrance oils, and carrier oils such as lavender, jojoba, sunflower seed, grapeseed, moroccan argan oil, etc.