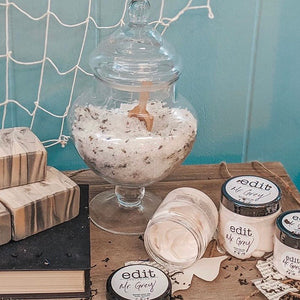 Spice up your life with our Mr. Grey-inspired lotion. Its sandalwood and ginger scent is as warm as an embrace from Mr. Grey himself and the spicy yet masculine scent will almost have you convinced you're actually wrapped up in his arms. So close your eyes and bask in your steamiest fantasy with this sinfully scrumptious lotion. (It's one of our top sellers for a reason!)
Lotion comes in a 2 or 4oz glass vessel.

Uses: Apply desired amount to skin, avoiding contact with eyes, to moisturize and relieve skin

Ingredients: caprillic triglicerides, emulsifying wax, glyceryl monostearate, shea butter, stearic acid, cetyl alcohol, glyceryl distearate (plant-based), carbomer, optiphen (paraben/formaldehyde-free preservative), glycerol (glycerin), various essential oils, fragrance oils, and carrier oils such as lavender, jojoba, sunflower seed, grapeseed, moroccan argan oil, etc.