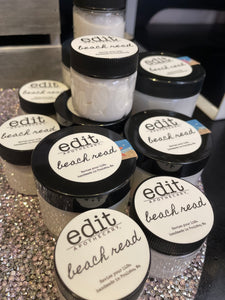 Prepare to smell just like vacation with this glorious coconut-citrus scent. Bust out that colorful towel, don those shades, and snag a summer romance novel to get you fully in the spirit for Beach Read.
Lotion comes in a 2 or 4oz glass vessel.

Uses: Apply desired amount to skin, avoiding contact with eyes, to moisturize and relieve skin

Ingredients: caprillic triglicerides, emulsifying wax, glyceryl monostearate, shea butter, stearic acid, cetyl alcohol, glyceryl distearate (plant-based), carbomer, optiphen (paraben/formaldehyde-free preservative), glycerol (glycerin), various essential oils, fragrance oils, and carrier oils such as jojoba, sunflower seed, grapeseed, moroccan argan oil, etc.