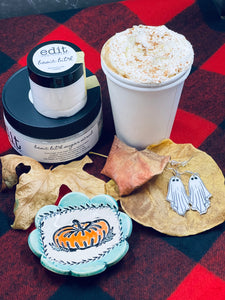 We don't think there's anything basic about the heavenly scent of this lotion. If fall means Pumpkin Spice to you, you'll want to snag some for yourself and all your friends. 
Lotion comes in a 2oz plastic or 4oz glass vessel.

Uses: Apply desired amount to skin, avoiding contact with eyes, to moisturize and relieve skin

Ingredients: caprillic triglicerides, emulsifying wax, glyceryl monostearate, shea butter, stearic acid, cetyl alcohol, glyceryl distearate (plant-based), carbomer, optiphen (paraben/formaldehyde-free preservative), glycerol (glycerin), various essential oils, fragrance oils, and carrier oils such as jojoba, sunflower seed, grapeseed, moroccan argan oil, etc.