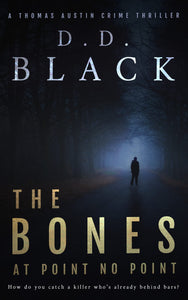 Books & Beers Club

Wednesday, August 16th, 2023 at 6pm at Moe's On Liberty Bay
Join us for more chills and thrills as we chat with local author D.D. Black about book one of his series, The Bones at Point No Point - his wife, fellow author Eva Blue will also be joining- so it is bound to be a wonderful time!

What goodreads says about the book:
How do you catch a killer who's already behind bars?

Thomas Austin was once a star NYPD detective, known for locking up a psychopathic serial The Holiday Baby Butcher . Now retired in a small beach town, Austin runs a little café, trying to overcome the loss of his wife, a district attorney who was gunned down only one year ago.

But when a mysterious bag of bones appears on a nearby beach, Austin is dragged back into law enforcement for one last job. The Holiday Baby Butcher is behind bars, so it has to be a copycat. But with each new clue, the killer seems closer and closer to the real thing.
Now, Austin must overcome the darkness of his past to chase a killer as twisted as any America has ever seen. And when Austin finally learns the truth, it's a twist so shocking it shakes him to his core, and threatens his life.

The Bones of Point No Point is the mesmerizing debut crime thriller from D.D. Black, perfect for fans of James Patterson, Lisa Regan, Michael Connelly, and David Baldacci.

What your ticket includes: 

Ticket holders will receive 10% off the purchase of the Books & Beers Club book! At the event we will have some delicious treats and cold craft brews! And you'll also get an exclusive 10% off shopping experience at Away With Words Bookshop!
Space is limited at Moe's on Liberty Bay, so grab a ticket and we'll see you there! Tickets at door subject to availability and surcharge.
*Please note that Moe's is located on the basement level of a historic building and is only accessible via stairs.